DoFollow backlinks plays important role in outranking your competitors. We are speaking of getting traffic through SEO and we do need these links. It is very important to know about dofollow vs nofollow links and how to get these links to rank higher on search engines.
Lets jump straight to the point and find the difference between nofollow vs dofollow links.
What Are Dofollow and Nofollow Links?
The DoFollow and NoFollow links are differ by anchor attribute (rel), is an important part of Search Engine Optimization. Dofollow links are those links which count more toward SEO rankings for organic traffic from search engines. Most of the time, creating a link within the same website is dofollow link as we do not mark them nofollow. Similarly, if we get same link from another website to our website, we get a lot of SEO power.
DoFollow Backlinks
As mentioned below, An anchor tag (link) with no rel attribute is called Do-Follow link. DoFollow back links are PR ( Page Rank ) links which recommend the page more on search eninges, no matter if it is inbound or outbound link.
For example:
<a href="http://cadslist.com" >SEO Backlinks</a>
<a rel="dofollow" href="http://cadslist.com" >SEO Backlinks</a>
Above are do-follow links and are of more importance in terms of SEO.
NoFollow Backlinks
An anchor tag (link) with attribute rel="nofollow" is called No-Follow link. No-Follow link do not pass PR ( Page Rank ) but still create a back link to website.
For example
<a rel="nofollow" href="http://cadslist.com" >SEO Backlinks</a>
is a No-Follow Link. Which means you are not passing your page PR to Facebook.
DoFollow NoFollow Links
To increase your website domain authority, you have to be very careful about DoFollow NoFollow links when creating back links to your website of high DA ( Domain Authority ). Getting Do-Follow links to your website from another website with high domain authority, your web site ranking will increase very quickly. If you give Do-Follow links to other website, you are promoting the content of another website by passing PR.
If in future that link goes down that will affect your website.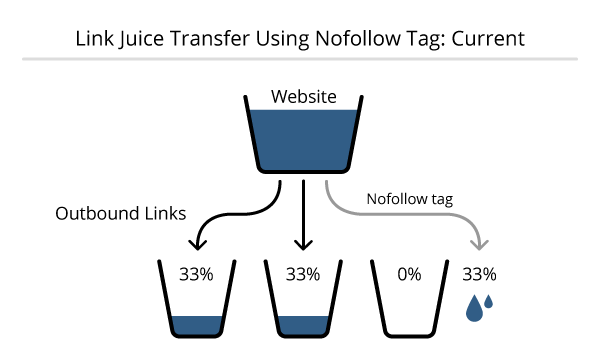 As Shown in the picture, Outbound Links with No Follow attributes hurts less your website. But getting Do Follow links to your website is of high importance. Do Follow links from high domain authority ( DA ) website helps a lot in increasing DA of your website.
Consider, your web page has a domain authority 30 and you have 3 outbound links. Two of them are Do-Follow links and one No-Follow. These two Do-Follow outbound links will pass 20 out of 30 DA to external website pages ( 33% each ) leaving your web page DA to 10.
Following is an important tools to check No-Follow link.
FireFox plugin to check the links your content are Do-Follow or No-Follow. NoDoFollow
If you have any question please let me know by commenting your question and i will reach you as soon as possible.