Many potential customers look for businesses on Facebook. A Facebook page with a smart marketing strategy can help businesses boost and connect with their target audience.
Facebook is the most actively used social media platform in the world with more than 1.82 billion active users a day! As per research statistics, social media is the primary source for brand searches and around 66% of Facebook users may check a brand's page once a week.
Facebook Marketing has multiple steps, but the foremost should be your Facebook Account. You may use this account to create Facebook Business Pages, use Facebook Business Manager, run Facebook Ads, and do many more marketing tactics.
What is Facebook Marketing?
The practice to promote a business, website, or brand on Facebook. It may help businesses grow an online following, create brand awareness, get leads and an audience, and sell their products and services.
Facebook marketing strategies include the following:
Promotional text, an image, or video content
A boosted post with image, text, or video content
Facebook Videos, Reels and Stories
Facebook Ads
Facebook Pages and Groups
Contests and Gifts
Facebook Messenger Chatbots and auto-responders
Campaigns on Influencer Marketing
Steps to set Facebook for business use
People with zero budget can also make use of Facebook Marketing, for free. However, you may also accelerate your growth with paid campaigns like Boost posts, and run Facebook Ads or campaigns with Influencers.
You can start with your Facebook Page, by sharing organic content, posts, images, and videos on it. The content should represent your brand and help make it popular.
Create a Facebook Business Page
You can sign in to your Facebook account. Follow the instructions in the tutorial on How to create a Facebook Business Page.
Facebook Verification
You don't need it, but it helps. How do you get that little blue checkmark like the cool brands?
Facebook Verification is not compulsory, but if verified, it may help your business grow better. Verification helps you get the blue checkmark on your brand's page. This makes it look more professional, and increases customer trust. This is very important as many people (around 72%) claim they don't trust Facebook pages.
To get verified, you must fill out a form with your business details. However, Facebook only accepts Pages that belong to proper businesses and popular public figures.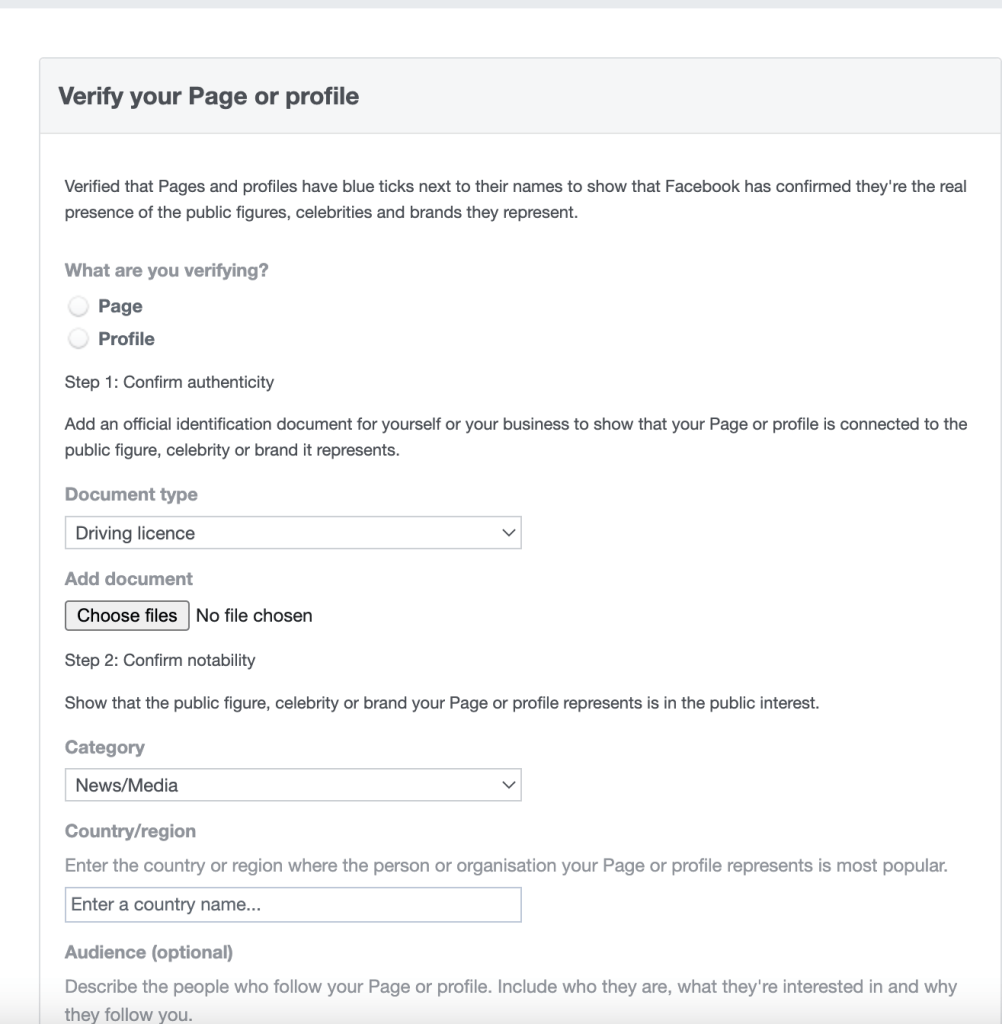 A personal profile is often difficult to verify. However, businesses particularly ones with also physical location are often easier to get verified. The vital factor is to ensure that your identity links are valid and independent.
Create a Facebook ads account
Facebook ads account may help you boost your marketing tactics. However, it requires paid campaigns with Ads. With a Facebook Business Page, you can visit Facebook Ads Manager.
This helps you start an automated ads campaign on Facebook. You can also create one from scratch, and even boost posts present on an existing Page.