Nowadays, everyone wants to appear in the top 10 of Google's rankings. Because when your website appears in searches, you will get more traffic and rank higher day by day. It's essential to rank on Google's first page because 75% of searches have observed on the first page rather than other pages.
You can appear among the top ranking by applying precise search engine optimization tactics and practices on the website. Your chances for ranking on the 1st page will become less if you don't follow those strategies and policies.
In the article, we will talk about the 12 best SEO practices to increase visibility among the searches and to get a high ranking in 2020.
Align SEO Content with User Intent
Craft Action-Oriented Title Tag and Meta Description
Optimization of Images
Optimize Website's Page Speed
Add Internal Links
Increase the User Experience on Website
Add Target Keywords in Your URL
Use Authoritative Backlinks
Create Long-form Website Content
Optimize Your Site for Voice Search
Optimize Pages for Mobile Version
Secure and Encrypted Website
Let's discuss one by one!
1. Align Your SEO Content with User Search Intent
The main objective of Google is to provide the desired solutions to users' queries. If you want to rank your site on the 1st page, then align your SEO friendly content with user intent. It's Google's top preference to satisfy the user search intent. Google's litmus test is mandatory to clear to rank on the first page.
For example, have a look for results when searching for a query, "how to make cosmetics?"
You will find the various videos or blog posts among the top most search results. Google will not show any Shopify store pages like electronic tools. However, google realizes the users' needs that they are searching just for gaining some productive knowledge related to their queries. They are not buying anything; they only want to learn the processes.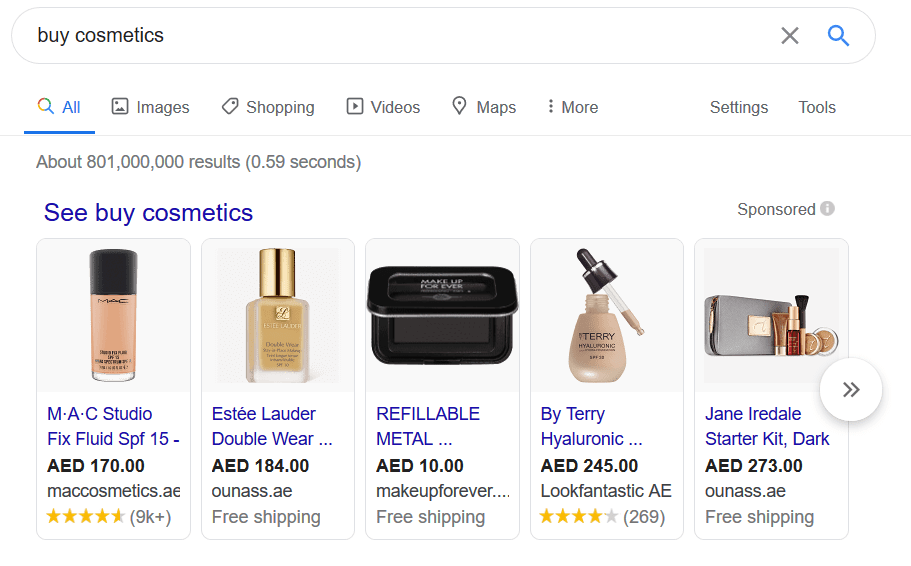 In contrast, if the users make a specific query such as" buy cosmetics," google will show the different Topmost Shopify stores for the beauty products. It will not show you any irrelevant results. Consequently, it is essential to know the basic perception of user search intent and alignment of content with that. This strategy will help you to rank your site's pages on Google's 1st page.
Search Intent Categories
Here we will discuss the four main categories of the User Search intent:
Informational: Informational intent contains specific results when users search for some kind of information. Users can find the immediate results for simple queries, for example," how's the weather outside?". But the results for somewhat technical searches need comprehensive data like the "what are the strategies for digital marketing?".
Navigational: In this type, the user is searching for specific sites or apps. There is no need to type the full website link; only type the first one or two words, you'll get the results like "Twitter signup," LinkedIn login, etc.
Commercial: In this search intent, the user is looking for some best services or products. Searcher wants to know the reviews related to his desired products. But there is no final resolution to buy that service. For example, "the best door installation services near me," "top restaurants in the city," etc.
Transactional: Here the user is ready to buy products. He is looking for reliable places to purchase particular products or gadgets. Transactional search intents include the Buy online tickets, buy Samsung smartphone, and much more.
Moreover, to use the keyword like "buy food items," it means that the user's search intent is transactional, not the commercial. The user is ready to order the eatables.
So, in a nutshell, Google understands the intentions of the users and always show the relevant results to the users' searches. Therefore, it's essential to align your website content with user search intent, which is the best SEO practices.
Bottom line: Generate SEO content that aligns with the user intent of your target audience.
The "Title tags" and compelling "meta description" are essential to rank your site pages.
Title Tags
The "Title tag" states the title of the web page; these are clickable headlines displayed on SERPs for a given result. Google usually displays first almost 50-60 characters of the title tag in the search results. Unique and easily recognizable title tags with proper keywords will help the users to find the solution to their queries. Google understands your web pages and information by analyzing the title tags.
High quality met tags are important factors in user search experience and high impact SEO tasks.
According to Google : Create good titles and snippets in Search Results
Following are the few tips for writing best SEO title tags:
Optimum title length
A unique title for every web page
Avoid keyword stuffing
Be descriptive
Use target keywords first.
Short but powerful tags
Avoid repetition of keywords
Suitable title matches to the users' intent
Meta Descriptions
Meta descriptions are the brief summaries of the web pages. These should be unique and compelling and are relevant to the user's search query. Descriptions having target keywords help in getting the user clicks through SERPs.
According to Google: A meta description should be a brief and descriptive paragraph, exactly according to the users' search query. The search engine understands what they're searching for.
Google prefers the average length of the ideal meta description containing 155-160 characters. So it's a vital SEO practice to create the readable, unique meta description to rank on the first page.
Here, we will mention some useful tips for writing meta description:
Optimum length & format
A unique and catchy description
Add target keywords
Brief but descriptive summary
Match the user search intent
Don't include double quotation marks
3. Optimization of Images
Images play a vital role in making your content more engaging and attractive. Images are essential in SEO perception because of this help increase the page loading and provide the contextual information to search engines. Furthermore, the use of right and suitable images in blog posts or other website pages may increase your traffic or ranking. But to optimize the photos is the best SEO strategy. Optimization is crafting an ideal size, format, and high-quality image to make users' engagement.
Below are four things you can do to optimize your images.
a) Pick the Best File Format
Selecting the right image format contributes a lot to the site ranking. The optimized images help in the improvement of page loading speeds and overall website efficiency.
Let's discuss the various steps that might help you to choose the best file format, such as JPEG, PNG, and WebP.
PNG and JPEG formats are more commonly used for website images. The size for both the formats is quite distinct because these follow the different compression tactics.
You can quickly feel the difference between both file formats in the above image. But It is not appropriate to use the JPEG as de facto format, as you can see in the Panda image, which in JPEG format and looks good. Comparatively, PNG images are considered superlative because containing texts or line drawings and are used in digital photographs, etc.
WebP is the latest file format and provides the lossy and lossless compression. It can minimize the image size up to 34% smaller than PNG and JPEG while retaining the picture's quality. It can also support the animated feature of images.
You can learn more details about the WebP file format by searching online
b) Compress Your Images
The big image size takes more time to load the web page. Therefore, it's necessary to compress the image file before uploading it on the website. You'll be more than happy to hear that there are enormous free tools available online to compress images. Let's discuss a few of them!
TinyPNG: This tool minimizes the JPEG and PNG format image sizes by using the smart lossy compression method.
ImageOptim: It compresses the mage size by advanced compression techniques that maintain the quality of images. It's an excellent compression tool recommended by Google itself but not suitable for PNG files.
ShortPixel: it's easy to use and a more satisfactory WordPress plugin to reduce the image size. You can compress nearly 100 pictures per month by ShortPixel's free trial.
c) Add Alt Text
To provide the Alt text for images will help the search engine spider to understand what a picture is about. It's a compulsory practice to add Alt text to improve website accessibility.
Despite advances in Google's abilities to understand images, adding alt text to images is still a necessary step. Adding alt text to images improves web accessibility and helps browsers better understand the images on your site.
According to Google: While creating the Alt text, choose suitable keywords, write unique, productive, and robust content. Please don't use many keywords (keyword stuffing) with Alt attributes to avoid the negative experiences or website' spam issues.
Only use simple, brief but descriptive content for writing image Alt text.
d) Lazy-Loading of Images
Lazy loading is a tactic that defers the loading of resources (images, videos) on the page until they are needed. There is a close relationship between website performance and lazy loading procedure.
When we apply the lazy loading technique on images, it reduces the page loading time initial page weight and system resource usage. All these factors can help in improving site performance.
For the lazy loading of images, users can use the more reliable free a3 plugin on WordPress.
e) Optimize Website's Page Speed
Page speed determines how fast your content load on a page. If there is a delay in loading, it means that your ranking will be lower due to some issues. That's why optimizing the page speed is a crucial step in the SEO practices.
Google will help you to check the page speed by offering free tools.
Google PageSpeed Insights can be improved by checking the score on SEMrush.
But we will suggest you the best tool for optimizing the page speed is the GTMetrix. It will guide you and help you in enhancing the page speed and loading time.
Fix Issues By SEMrush
To fix the performance glitches and site audit, users can use the SEMrush by following steps.
Firstly, log in to the SEMrush dashboard and navigate to Projects > Add New Project > Enter your domain.
Put all the details here and click on "Start Site Audit."
You will get the complete audit report, which is generated by SEMrush within a short time. In his way, users can resolve all the issues to maintain the SEO condition of the website.
Now, click on the "view details'' option and can understand all the page loading bugs and can quickly fix them.
Various other factors which will increase page loading speed:
Control browser caching
Optimize images
Reduce redirects.
Enable compression (HTML, JavaScript files)
Delete unnecessary plugins.
Improve server response time.
5) Add Internal Links
Those links that go from one page to another different page on the same domain. Internal links will help the user to navigate the site and to establish an informational hierarchy. These links improve the SEO level of the website when used correctly.
These internal links are the target keywords used as hyperlinks to improve the page ranking.
For example, by using internal linking, NinjaOutreach enhanced its organic traffic by up to 40%.
So it's a remarkable SEO practice to add the internal links on your website. If you want to detect the errors and problems regarding internal links on your site, you can use the more reliable tool SEMrush. The internal linking report will help you a lot in resolving all the glitches.
On SEMrush, run a site audit for your website to create an audit report.
Navigate to Internal Linking and hit on the "View details" option.
6) Increase User Experience on Website
User experience plays a critical role in improving the website's ranking. Your page speed will surely help you to improve the user experience.
Here are feww useful tips to improve the users' experience when they visit your website:
Use of subheadings: Using catchy subheadings (H1, H2, H3) in the content will increase the accessibility of your content to visitors.
Make Your Content Visually Attractive: It is observed that attractive and engaging content will appeal to more users on the site. Users will show interest in your posts and have a good experience there. Therefore, always use some attractive images, videos, and relevant screenshots to explain your thoughts.
Don't Use Disturbing Popups: The use of popups may disturb your visitors, which leads to bad user experience. Google has also penalized some sites containing the intrusive popups. Therefore, try to use fewer popups if it is highly essential to use then only add exit-intent popups.
Use white space: White space is a vital feature of good design. According to Crazy Egg, white space between passages and in the left and right borders increases conception by 20%. Similarly, use white space to attract the attention of visitors at your site's content.
7) Add Target Keywords in Your URL
A Uniform resource locator is a human-readable text and also called a web address. URL specifies the web pages' location. Using suitable keywords in URL is another best SEO practice.
According to Google:
URLs should be well structured, simple, and readable so that search engines can understand them. So, be careful while creating your content so that URLs can be generated logically.
Here are a few crucial factors related to URLs generation:
Use lowercase letters: Using uppercase letters may create some duplicate content issues. So make sure to use lowercase letters in URLs.
Use short URLs: Short URLs will help to apprehend the address, and simple words can be readable by users.
Use keyword-rich URLs: using compelling keywords in URLs also boost up the chance of your website's ranking.
Avoid unnecessary stop words: Don't use unnecessary and stop words in your URLs; it may drop your site's ranking.
8) Use Authoritative Backlinks
Backlinks are called inbound links/ incoming links, play a positive role in the site's ranking.
Although there are numerous changes in Google's algorithm, backlinks are considered an important element in the SEO sense. The high number of backlinks means more chances of your pages to rank on Google's 1st page. It's an effective practice to build authoritative backlinks for your website.
Backlinks may be good or bad for your site. Some backlinks may help to boost up the ranking, but others may cause disruption or drop your site because they are just for a particular query. So, always choose high-quality backlinks, which may improve your ranking. Google prefers authoritative type backlinks.
If you want to augment your website's ranking with a specific keyword, build good quality backlinks. One of the most efficient methods to get confident backlinks is by copying your competitors' link building tactics.
To detect the backlink profiles of opponents and their strategies, you can use the most effective tool, SEMrush's Backlink Gap Tool.
Let's discuss the steps while using SEMrush's Backlink Gap Tool:
Navigate to Gap Analysis —> Backlink Gap.
Now add your domain name and your 4 top competitor's domains, then click "Find prospects."
Soon you will get a comparison table or graph for five domain's backlinks profiles showing a vast difference. The chart offers a quick indication of the most recent link building doings of your opponents. Just above the graph in the drop-down menu, you have to choose your domain to recognize the link building opportunities.
You can get a quick list of your competitor's backlink strategies, and in this way, you can build your high-quality backlinks for the site. I will help you a lot to understand the complete logic behind link building.
9) Create Long-Form Website Content
Long-form content may have a positive impact on page ranking. Google considered them best to rank your website pages. Some marketers think that the article for about 700words is good enough for ranking. But now the research study suggests that material having more than 3000 words get more traffic and shares. Long-form content may contain 3.5x more backlinks than short-form content. It helps in increasing the search ranking of the website.
In short, both search performance and content length have a strong relationship.
Therefore, you should aim at issuing 1-2 comprehensively well-researched, long-form articles that provide useful facts to readers. To grab the reader's attention and engagement is Google's top priority.
When producing long-form content on your site, focus keywords that strike the right balance between their keyword difficulty and search volume. Long tail keywords are more appropriate for the blog posts. These may have a lesser search volume, but readers like them and access them. There may be some kind of keyword difficulty if there is too low search volume. So always pick the appropriate long-tailed keywords that improve your ranking.
To check the keyword difficulty score for your articles, you can use the SEMrush tool.
Just enter your target keyword the search bar and click the "Search" button on SEMrush.
It will generate a complete report containing the total search volume, keyword density, difficulty score, and much more.
10) Optimize Your Site for Voice Search
In the past, people usually use desktops for searching their specific queries. With the rising use of cellphone gadgets, voice searches are becoming a prevalent trend among internet users. These searches are not only performed on smartphones, but they can also be done on home voice helpers like the Samsung Smart TV, Amazon Echo, Voice Pod, etc.
Therefore, optimizing your site for voice can assist you in producing more organic traffic if you comprehend conversational searches into your SEO plan. According to the latest study, it is estimated that more than 50% of all searches will start through voice. Consequently, your website content should adjust to this innovative trend to stand out in the present search engines by 2020.
11) Optimize Pages for Mobile Version
A site that does not have a cellphone version can miss most of its users in the coming years because mobile web pages are a developing trend that will get even more prevalent in 2020. With innovation and modern technology, people open sites on their cellphones to save their time. They can get quick answers to their problems, and they feel relaxed. Therefore, to optimize your pages for the mobile version is another essential SEO technique. The content can be easily readable and accessible by the readers. If you want to grow with your competitors, make sure to optimize your site pages to get more traffic. More Google mobile page index means more chances of ranking on the first page.
12) Secure and Encrypted Website
According to Google, HTTPS protocol assists avoid intruders from interfering with the communications between your sites and your customers' browsers. The HTTP protocol is considered authenticated and encrypted, which provides a secure connection.
It's imperative to secure your site with certain authorities. Google wants to provide its visitors with a safe browsing experience. Users feel the site reliable and will help in increasing the website's traffic. It usually relates to a good user experience that ultimately enhances the ranking of the site.
Final Words:
SEO is very significant today for businesses. Similarly, Google is a search engine that analyses the data based on how search users act, and it's getting more precise, which means that the latest trends appear every year on the internet. If you follow all the above SEO practices, you can generate more traffic and rank higher. By applying the SEO techniques on your site, you can get more opportunities to rank your page on Google's 1st page.