After making a Facebook Page, you can start promotion for your new page. The few simple steps explained below can help you create a Facebook marketing strategy
Step 1: Define your target audience
The first step should be to define the target audience for your Facebook Page. You must then create a content and marketing strategy to promote your page.
Let's create a quick brainstorming session for your target audience.
What age group do come from?
What is their location?
What are their job roles? (This is relevant to B2B brands.)
What problems do they face to find products? And how can you find solutions for it.
When and how will they use Facebook? (For example, during work or while at home, or scroll before bedtime?)
You may check the Audience Insights on your Facebook Page inside Meta Business Suite to check demographic information of your existing audience or Facebook Page followers.
These Insights offer much more than just basic information, this includes:
Relationship status
Location
Education attainment
Hobbies and interests
Languages they speak
Statistics of Facebook usage
The past activity of purchasing products online
You can adjust your content strategy as per your audience's interest and watch your Insights to check what works best to move your audience to things you post.
This data can also be useful for ad targeting and Facebook advertising.
Step 2: Define your goals
Why do you want followers? What do you want them to do? For most companies, the answer is, "Buy something."
Most companies want their followers to make them Buy your Product. However, it is not always about money, Facebook Page has many common goals like:
Enhance customer service
Create brand awareness
Maintain a compatible brand image all over social media
Divert traffic to a physical location or website
Facebook marketing goals depend on the overall marketing strategy you perform.
Step 3: Plan for your content strategy
In short, your content strategy should be:
The content you will post
The best time to post it
What content to post
There can be many options when it comes to posting the type of content. You may come up with behind-the-scenes processes for your product development. Some discount posts, or post some games and fun-to-do activities.
However, you must put stress to post the content that your audience likes and is interested in. You must add creativity to your content to make it distinct from others and gain user interest. Most importantly, try to adopt the best and latest social media trends that are on social media.
You may post your content under various main headings. For example:
Company news
Industry news
Today's Tips, where you share a short tutorial for your software
Product Reviews
New Product Promotions, and
Testimonials
You should adopt to a few classic social media content strategy rules, as follows:
The 80/20 rule: 80% of the content should inform, educate, and entertain, while the remaining 20% should be promotional.
The rule of thirds: One-third of your content should showcase your ideas, one-third of it for direct interaction with the audience, and the last third will be promotional content.
The best time to post your content
The time to post your is the last but most important step. researches suggest, that the best time to post on Facebook is between 8 a.m and 12 p.m on Tuesday and Thursday.
Trying out at different times will make you different levels of engagement. You may use the Hootsuits Planner to track things well. This helps your team members see the upcoming posts, identify gaps, and collaborate well on drafts. Hootsuite's powerful analytics will also help you decide the best times to post your content, that is based on your personalized data.
4. Optimize your Facebook Page
You can perform some simple steps to optimize your Facebook Page.
A perfect profile picture that may have your logo and a cover photo. You may also check social media image sizes for the latest image specifications.
Add a call to action button, such as Get Now or Learn More.
Contact information, which includes phone number, website URL, and email address.
A properly described About section.
A pinned post that shows the latest offers and promotions.
A custom website URL.
A proper name for the business category. (For example, is "Cleaning Services Company.")
If your business has a physical location, add your street address. for ecommerce businesses, use the Commerce Manager tool to display your products in the Facebook Shop tab. You can set up your own Facebook Shop with a few simple steps.
Step 5: Use more Facebook tools
1. Facebook Groups
Creating a group on Facebook requires a lot of attention and moderation to be successful. But, if worked on properly they can help you get great results.
2. Facebook Marketplace for local sales
A simple modern-day replacement for Craigslist, and a very powerful business sales channel.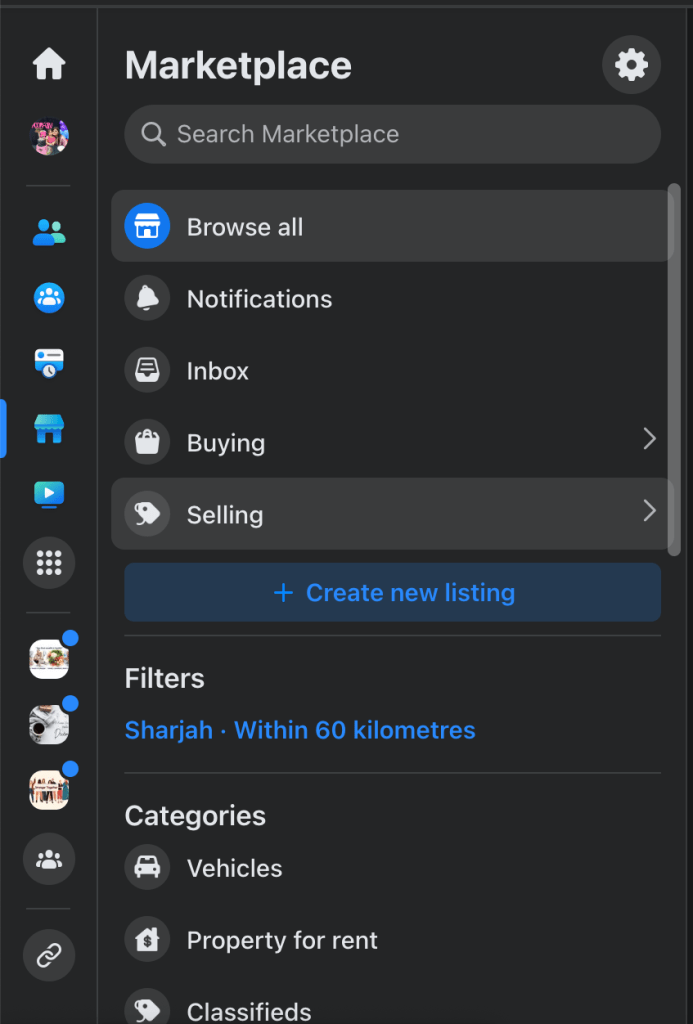 In the year 2022, Facebook Marketplace ads reached a potential of up to 562.1 million people. You can create. a listing on Facebook Marketplace for free. Specify the Category, Price, and other details for the Product you are posting. Adding a URL of your website along with your product may help promote your website also.
6. Facebook Advertising
Facebook ads can abruptly shoot up traffic and sales, but you should carefully launch a campaign. You can check the prices of Facebook Ads to assure they suit your budget.
Facebook ads can help reach the highest potential audience of any social platform. Facebook is the best place to start social media advertising for your business. You may check a step-by-step guide to create the first facebook ad campaign and start with facebook Advertising.